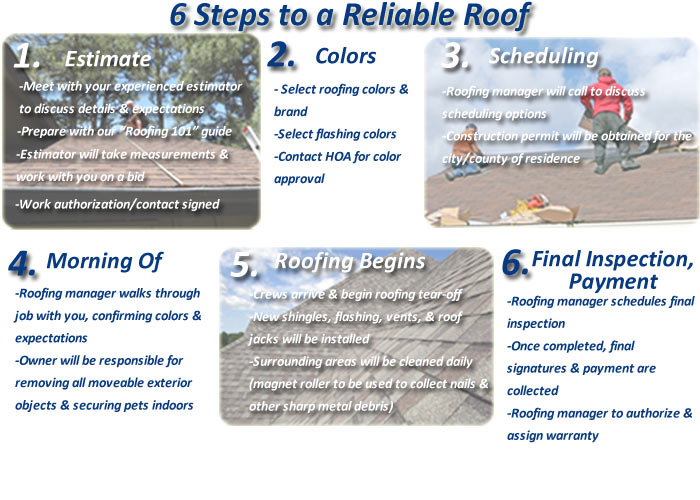 Steps to the Most Dependable Asphalt Roof System – We Manage The Job So You Don't Have To
Estimate / Inspection
Meet with Vivax Project Planner/Roofing Specialist
Discuss project details and expectations
Project Planner conducts Inspection and presents detailed estimate
Authorize agreement form
Product / Colors
Select Asphalt Shingle Style
Choose Shingle/Metal Colors
Submit HOA Form for approval
Provide Project Planner with Insurance Loss Sheet ( If Insurance Claim is applicable)
Scheduling
Project Manager introduction call
Set date expectations for material delivery
Discuss Project start date
Expect confirmation email with timeframe details
How to Prepare
Submit roofing contract, insurance check and necessary paperwork to mortgage company (If insurance claim is applicable)
Secure pets, close windows, clear off decks,patios & porches
Move vehicles from driveway and garage
Please remember this is construction and a major renovation to your home, Installation will be loud and somewhat dirty. However, we will treat your home with the outmost respect – We use roll away dumpsters to protect your driveway, Roll magnets to capture nails, We will also cover & protect any landscaping.
Day of Installation
Meet with your Project Manager and Vivax Pro roofing Crew
Confirm Project Details, Warranty, Product & Color Selections
Discuss your Project Timeline
Provide Start Check or ACV Check ( If Insurance Claim is applicable)
Roofing System Installation Process
Remove and dispose of existing shingles and roofing components
Inspect roof decking / Dry In decking with new felt & underlayment
Install new Shingles, Install new Drip & Rake Metals
Remove and Replace all Vents and Pipe Jacks
Final Roof Inspection and Payment
Project Manager schedules final inspection with Homeowner and City/County Inspector
Final Walkthrough with Homeowner
Project Manager authorizes Vivax 25 YR Workmanship Warranty
A roof is a waterproof barrier that protects peoples homes from the elements. A roof can be made from asphalt, metal, concrete, plastic or rubber.  90 percent of the homes we service are different grades of asphalt. A leak in a roof can cause thousands of dollars in damage within minutes of a hard rain storm. Typically the longer a leak continues before getting fixed the worse it will get. A roof leak can cause damage to drywall, flooring, trim electrical work and framing. Also it could damage any personal property in the area. Basically everything and everything. This is why quality and workmanship is extremely important during a roof install.