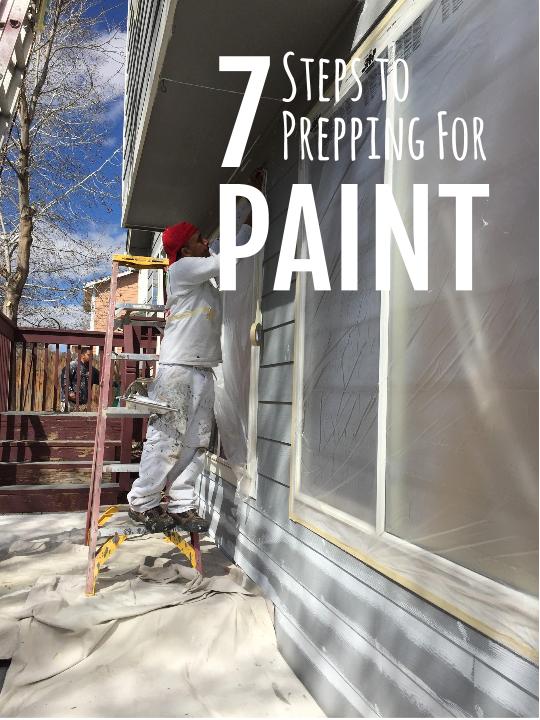 There are over 1,100 painters in Colorado. How can you be sure the company you chose won't be the one to leave you with a half decent job for a over-inflated price? The answer, is in the painter's preparation. Here at Vivax Pros we proudly boast Colorado's strongest warranty program. We would not be able to stand behind a 14 year warranty if we didn't hold our painters to the highest standards of preparation. To guarantee this quality, each painting crew is certified by Vivax Pros according to a 6 step mantra that has become the corner stone of our success.
Drop it: You want your house painted; not your yard, flowers, statues, driveway, or dog. Before we do anything, you can count on Vivax to lay down drop clothes over any important surface where paint doesn't belong.
Pound it: If you love decorating your home for the holidays, you probably have a few nails sticking out of your house. We will hammer or remove every single nail on your house. This allows us to properly paint your home while also protecting the wood on the home from absorbing water through the holes.
Scrape it: If paint is peeling off your house, it is our responsibility to scrape it downs to create an even surface to work on. If it's isn't scraped, the fresh paint won't go on as cleanly, causing more peeling down the line. This step may include replacing any pieces of wood that have softened due to extreme weathering.
Prime it: Vivax warranties our paint and workmanship for up to 14 years. Of all the steps we take to stand behind that warranty, the most important is the Primer. We prime the bottom three boards of your house all the way around. This creates a seal on the most vulnerable areas of the home against moisture.
Caulk it: Every open corner and crack of the home will be filled in with caulk to ensure a long lasting finish.
Mask it: if we can't cover it with drop cloth, we will mask it with plastic. This means all Windows, wall mounted light fixtures, and anything else that is important to you. We will stop at no length to protect the things you care about.
Paint it: Finally, we do the fun part. Vivax will beautify every inch of your home with the highest grade of Sherwin Williams Paint. Whether you are freshening up the home with the same color scheme, or changing it up with a brand new combo, Vivax will not collect a dime from you until you are 100% happy about our work. This is our promise to you. This is the Vivax Way.