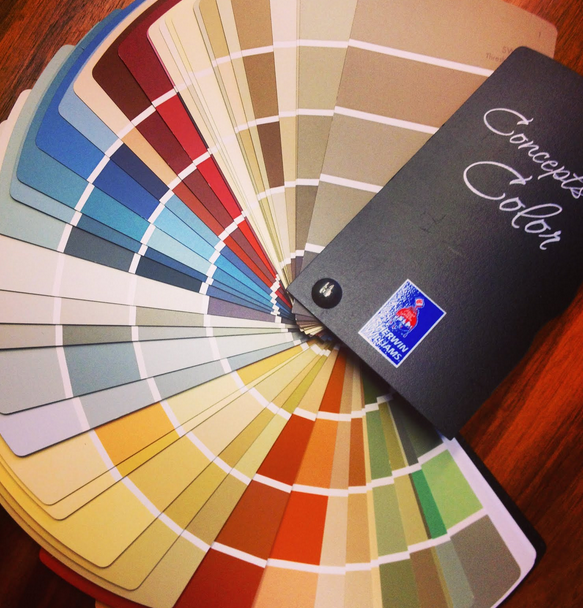 It's August which means that painting season is in full swing! Summer seems like the ideal time to get outside and give the exterior of your home a little TLC but that doesn't mean you should neglect the interior of your home! It's the perfect time to reorganize and refresh for the coming change in season.
One of the easiest ways to breathe some life into your home is with a fresh coat of paint and pop of color. Getaway from the standard white walls and make your home look and feel more cozy and comfortable. I know choosing the perfect paint color can send some people running for the hills so here are some amazing tips to help you navigate the maze of colors at your local paint store without losing your sanity!
1. Whatever you do, do NOT head straight to your local Home Depot and try to pick out colors! This might seem counterintuitive but trust me, staring at those endless sample strips under bad fluorescent lighting will almost guarantee that those few gallons you leave with will be more neon rather than the soft smooth color you were hoping for.
2. Get inspired! Whether you're an old school type that wants to gather your inspiration from magazines or you've mastered the art of Pinterest take some time and find some things that inspire you. Keep in mind that just because a color looks good in one person's home doesn't mean it will be so when it comes to your home.
3. Take advantage of those sample strips! Now that you have an idea of what you're looking for (or at least a rough idea of what you like) you can finally brave the paint store and load up on paint sample strips. Be sure to pay attention to the color undertones  (by that I mean does that gray have more of a blue undertone or is it more yellow?) This will keep you from choosing colors that aren't true to what you're actually looking for. Another side note, try to find colors that are less saturated. When you've painted your entire dining room bright yellow it will feel more like you're eating on the sun and less like that nice soft butter color you were going for. (Sherwin Williams is especially great at helping to sort through all the options available. Find a store near you HERE)
4. Start visualizing! Once you've got all your sample strips you'll want to tape them up in the the respective rooms you're planning on painting and take note of how the colors look in both manmade and natural light. Make sure you're checking them out at different times of day (morning, noon and night!) this will help with the process of elimination. If there's a color you feel unsure about or that you hesitate on go ahead and scrap it and move on to the colors you gravitate towards more.
5. You're almost there! Hopefully you've narrowed those colors down to 2-3 contenders and it's finally time to go purchase those sample pots and get to painting!…test patches that is! This is the final step to choosing a paint color and now that you've got a bigger sample it should be easier to visualize the finished product. (Please remember that it will always appear darker once the entire room has been painted so again it might be a better idea to shy away from those more saturated color) At this point it pretty much comes down to you either love a color or you don't. Don't get hung up on a color that you like when there's one that you really love cause it will drive you mad!
Now that you've found that perfect color that really ties the room together you need to determine the scope of the project. If it's one or two rooms that's definitely a D.I.Y. project but anymore than that you may want to seriously consider hiring a professional. You'll be glad you did when you see how much time and frustration (not to mention your weekends!) is saved by having a professional take care of these projects for you and you're sure to be pleased with the clean look that comes from having the right tools and experience to make a paint job really come together.
BONUS Tip: If you find that even with these tips and tricks you're still having a hard time choosing a color ask your painter to see if they offer free color consultations or if they know of a color consultant. Sometimes having a fresh pair of eyes or an outside perspective can really help narrow down your options!