Whether you're just starting to think about painting your home or have already set the process in motion, choosing new colors can feel daunting for even the savviest stylist. At Vivax Paint Pros, we help homeowners with these decisions every day, setting them up for a renovation they can take pride in. With a few months left in the painting season, we decided to do something fun and interview two veteran color consultants in our company, sales representative Daníca Alexander and project planner Dani Call, who agreed to share their insights on the latest trends, along with other tips to help set up homeowners for success. All specific colors referenced are by Sherwin-Williams, the national leader in exterior paint products. Interview condensed and edited for clarity.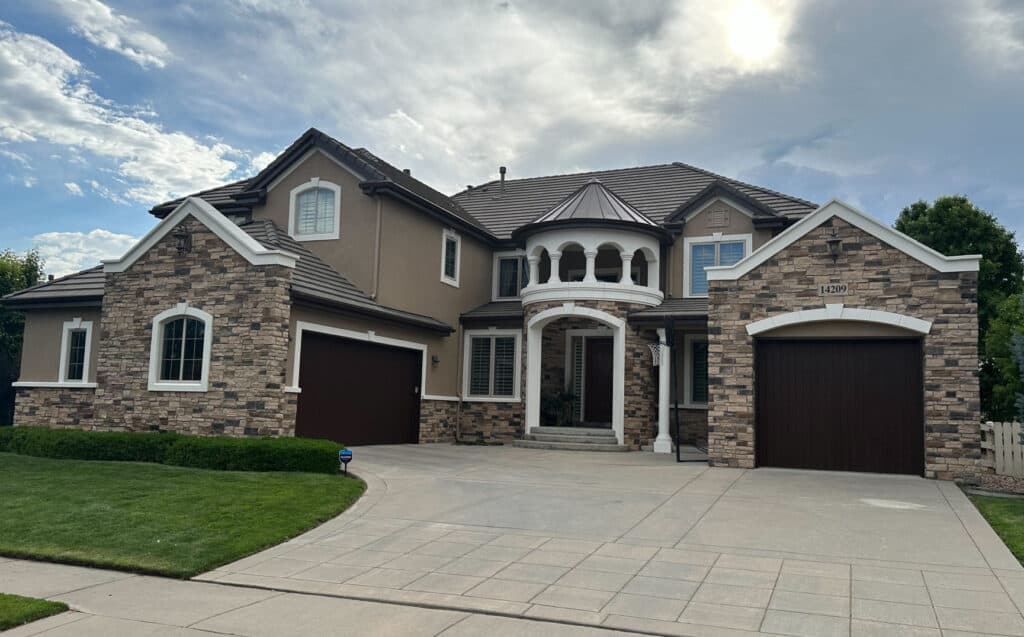 What have been some of the most popular color combos for Vivax clients in 2023?
Dani: I think by far one of the most popular color schemes has been what's called modern farmhouse: an off-white body color like Alabaster or Oyster White paired with a very dark trim color like Tricorn Black, Iron Ore or Black fox. A bold colored front door with Salty Dog or Red Barn completes the look. The key to accomplishing a simple modern aesthetic is by changing the color placement. Typically, a home will have a body color and a trim color which is used on window/corner trim and along the fascia/roofline. For modern farmhouse, we paint all the window/corner trim the body color for it to blend in with the body and use the dark trim color just along the roofline/fascia, drawing you eye upwards to that darkest color giving the home a "big" feel.
Daníca: Grays are still in: I see Lazy Gray or Morning Fog for a light gray, Wall Street and Serious Gray are popular medium toned grays, and Cyberspace is a popular dark gray. We're still seeing a lot of black accents; common blacks are Iron Ore and Tricorn Black. Grays can be very complimentary to stone and brick accents by matching the grout color which really helps to makes the brick or stone pop and contrast the house. We see a lot of houses with brick and stone accents, which goes a long way to explaining why grays remain so popular. Homeowners are having fun with their accent colors by adding something bright or fun to their front door, shutters or other accent areas.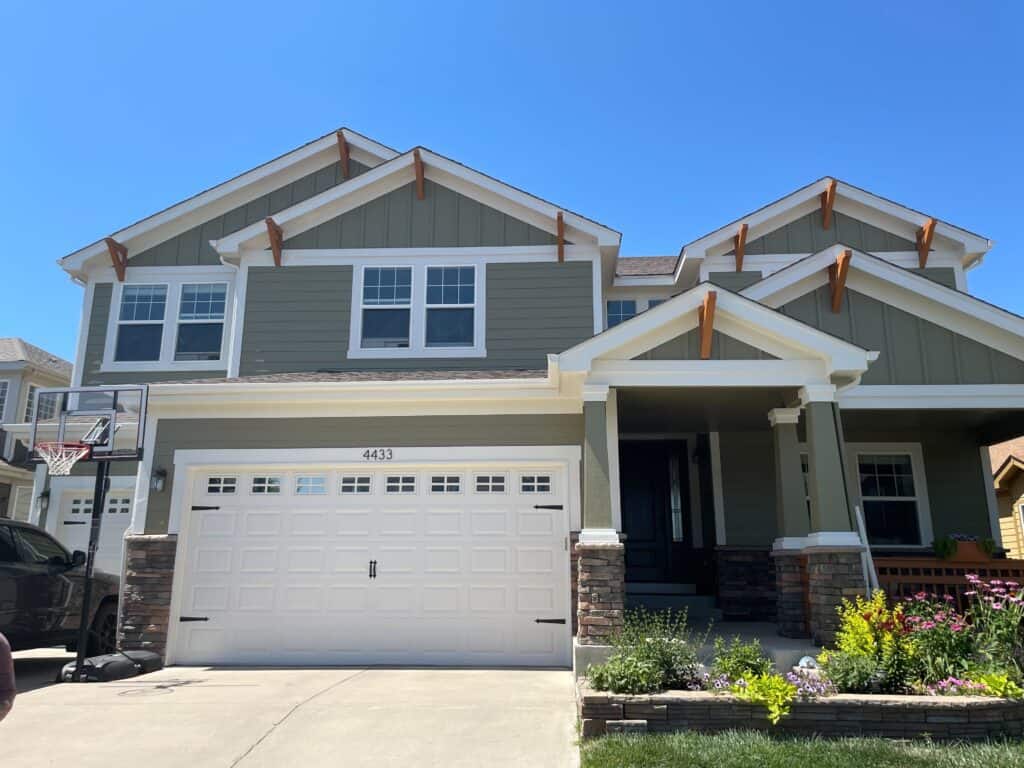 Have you noticed any changes in what colors are most popular with homeowners over the past few years?
Dani: When I started 5 years ago it seemed like almost everyone wanted gray with a stark white trim. In the last two seasons I've noticed that begin to change as I talked about colors with homeowners; I was hearing things along the lines of "I don't want gray, everyone has it". The green-grays are becoming much more popular. I recommend it to a lot of homeowners who want to be modern but still cater to the architecture of their home and have a Colorado feel. It's great because those colors will hold their value in terms of remaining trendy. It'll work while the gray tones are in-demand and when we inevitably go back to the earth tones being popular.
Daníca: People have been moving towards lighter body colors with a darker trim, rather than the classic bold body color with white trim. More people have been simplifying their schemes all together by painting the house and window trim all one body color and accenting out the fascia and the gutters along the roofline with a darker trim.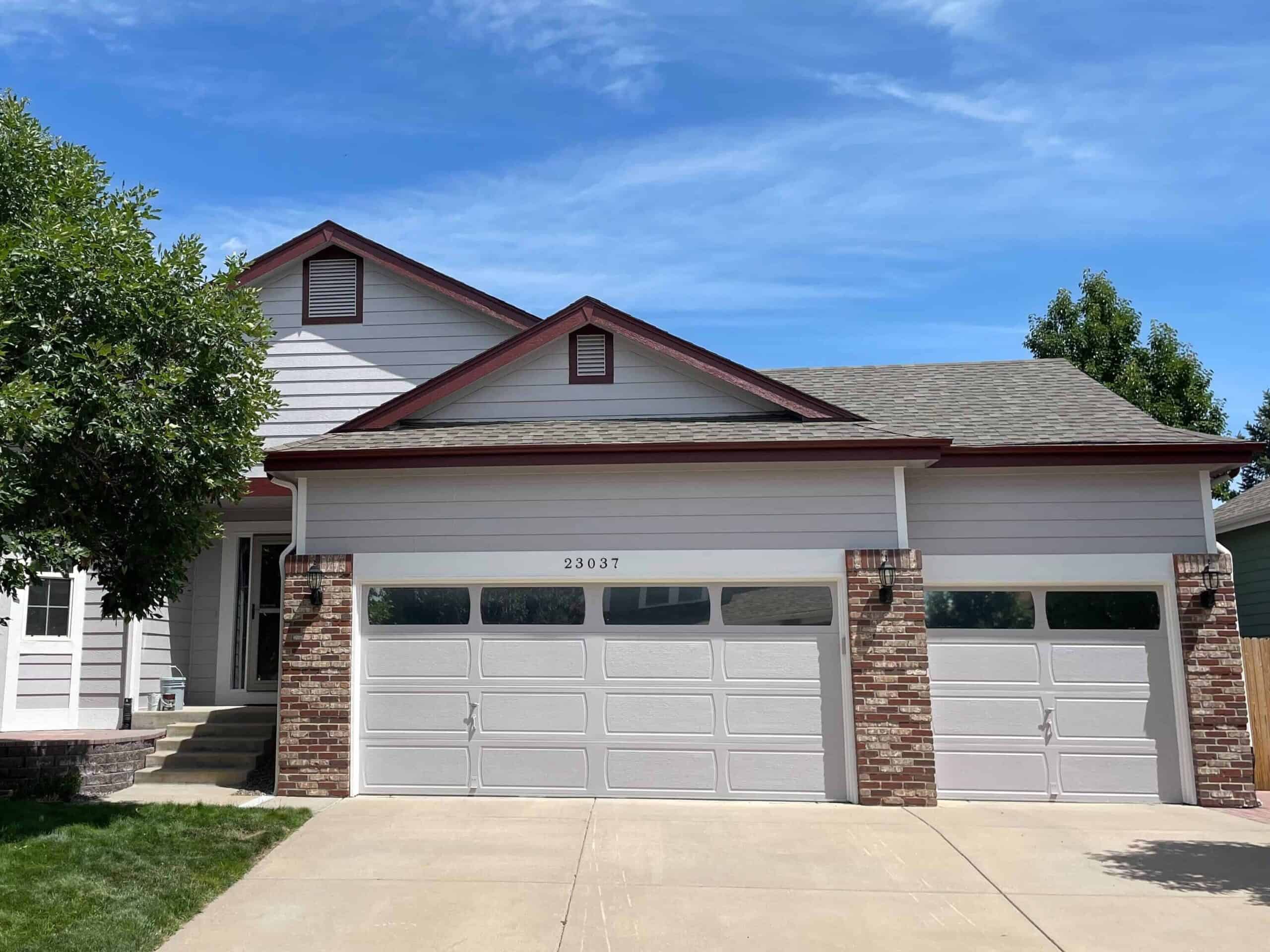 Any advice for homeowners concerned about getting color approval from their Homeowner's Association (HOA)?
Daníca: I would first start by getting the list of approved color schemes for your specific HOA; if you like any of those colors it will make the whole process a lot easier. If your HOA doesn't have a list to go off of, I would recommend driving through the neighborhood to get ideas and a feel for what colors are already approved by your HOA.
Dani: The HOA process is not as daunting as it seems! Nowadays, the vast majority of pre-approved HOA schemes can be found through either their online portal or at the nearest Sherwin-Williams, which will likely have that HOA's color book. It is very important to take the colors you see online with a big grain of salt because screen brightness makes colors inaccurate to what you will see in person. Either go to Sherwin to see the swatch and get a test quart, or use our In Your Area tab to find homes nearby with the colors you have in mind. The In Your Area tab is such an incredible tool: it takes all the fear out of visualizing what a color may look like large scale. For those without an HOA, the world is your oyster! It can feel a little overwhelming to almost have too many options. Pinterest is a great way to find some inspiration as well as talking to your Project Planner, we see and talk colors all day so we are here to help! Painting your home is the way to protect your most important asset and changing colors makes it a way more fun remodel that'll have you feeling like it's a brand new home! Interview by Paul M; all photos by Vivax Project Managers.