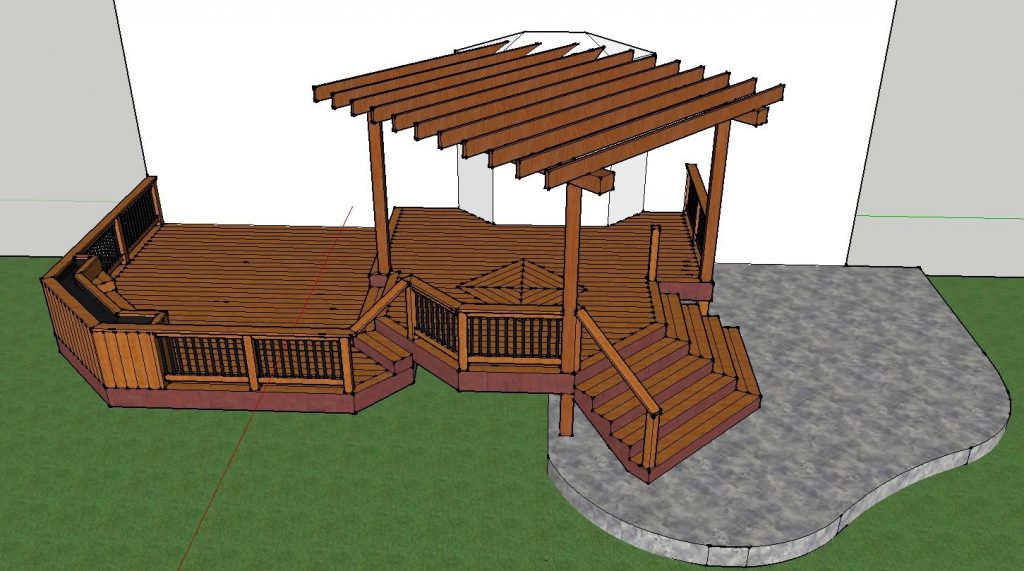 What makes Composite Decking more durable than wood decks?
The material used to make Trex decks are a composite of recycled materials, such as sawdust and reclaimed wood, as well as reused plastic. The process keeps more than 400 million pounds of plastic out of landfills, and repurposes it in a sustainable way, and makes for a reliably durable decking material.
How will my deck fare in the Colorado sun?
Composite materials have a built-in protective shell that will guard against fading and provide stain resistance for many years. Redwood decks are made with the most durable natural material that works with weather and sun to resist damage.
Do I need to paint or stain my Composite deck?
The tough shell that is part of the Trex design means that you never have to paint or stain your deck. The synthetic cap will ensure that your deck looks great, year after year.
What is the best time of year to build a deck?
You can work with us to schedule your deck build based on your schedule. Graduation party in the June? The process can start in Spring so that your deck will be ready to show off in time for the celebration. Summer is usually a pretty busy time for most families, but we are ready to work with you to find a time to make the magic happen. Perhaps the best time of year to build a new deck is in Fall.
Can my deck be any shape I want?
Yes, as long as the deck complies with zoning codes we can custom design your deck to be any shape you would like.
How long does the estimate process take?
From measurements to design presentation, it takes one to two weeks, depending on the size of the project. You will have a free design made and an exact price along with financing options (if needed).
Ok. I want Vivax to build a deck for me. How much does something like this cost?
There isn't an easy way to answer this question. There are so many options. We will meet with you to discover what you envision, then put together a comprehensive estimate that includes labor and materials. The warranties are always guaranteed and will protect the investment in your deck. Every project includes unique characteristics, so we will quote you a price based on your specific dream.