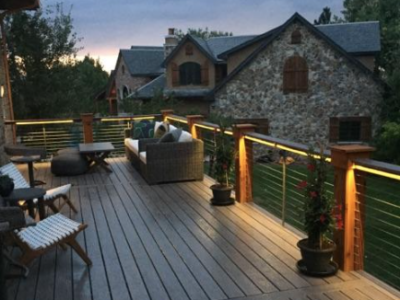 Summer Decorating
Summer is right around the corner and it's almost time to use your custom built deck to host all your barbeques! With all the trends coming and going, galvanized decor has been sticking around and is great for your outdoor areas! Its unpolished surface brings a really down to earth tone to your outside space creating the right vibe for summertime. Galvanized decor pairs nicely with any colors.
Going Green
Pairing succulents and other green plants in galvanized vases is a great way to start. Since succulents have become so popular they're accessible almost everywhere. They're easy care makes them ideal for putting them on your custom deck! Home improvement stores have them available in bulk, garden centers have great varieties, and you can even buy them at home furnishing stores. These plants love the sun and don't need a lot of water making them perfect for the Colorado weather!
Get Galvanized
You don't have to get huge galvanized accents to keep up with the trends. You can go small and have serving trays and serving accessories to help with all the cookouts you'll be hosting on your brand new deck. Because of its popularity, there's no shortage of the accessories you can get it and where you can find them. So regardless of your budget, you can make it happen!
Outdoor Lighting
Lighting throughout the seasons makes a difference, but it really makes a difference in the summer months when you'll be spending more time on your custom deck in the evening. Floor lanterns can create a soft and warm glow coming from your deck. The combination of small string lights hanging from your railing, roof or pergola helps light things up. Don't have any of those? Bundle up string lights in a clear floor lantern for the glow and the look. Love candles but don't love the setting every single one? Electronic candles have timers on them and flicker like real candles without the hassles of lighting every single one every night.
These simple additions can add so much character for your custom built deck and really make it summer ready from mid day cookouts, to making evening smores