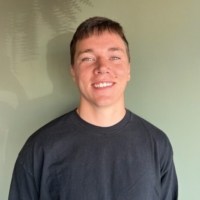 Project Planner
Hometown: Centennial, CO
Education: University of Northern Colorado
Favorite Quote: "There is no bad days, only bad moments"
About Me:
I grew up in Centennial, CO. I attended the University of Northern Colorado. I played football up there and graduated with a degree in Communication.  I have a girlfriend named Makenna who played volleyball at Northern Colorado. We have a golden retriever named Daisy! She's the cutest. We love hiking, racquetball, and cooking.
Click on the categories below to meet the members within that team.