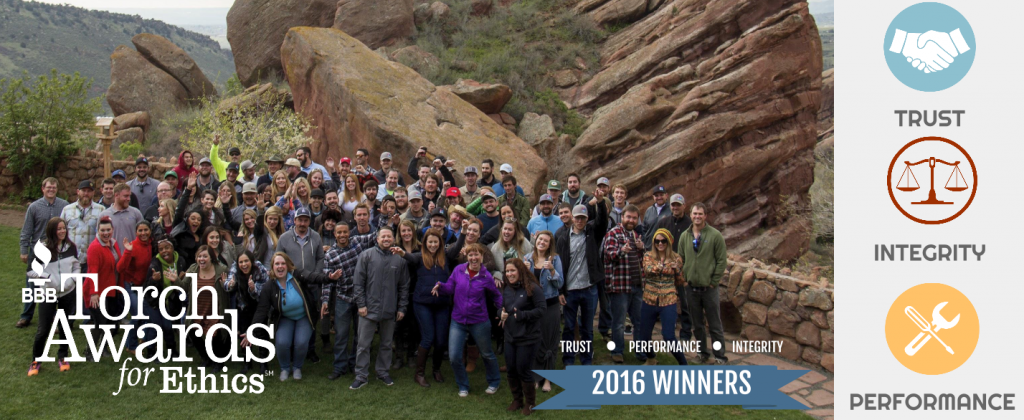 Vivax Pros was founded in 2004 with only one goal in mind—to raise the bar for customer service in the Home Improvement Industry. They have doubled in size since 2015, by going above and beyond the call of duty for every single customer, and by adhering to a commitment to integrity and dependability.
Three businesses, two nonprofits recognized for exemplary practices in marketplace trust.
DENVER – The BBB Denver/Boulder is proud to announce the winners of its 14th annual Torch Awards for Ethics The Torch Award illustrates the importance of trust and integrity, and is awarded to those businesses and nonprofits that strive to go above and beyond in their dealings with customers, employees, vendors, and the community.
All winners were honored with the Torch Award at a ceremony on Thursday, October 20th, in front of an audience of approximately 300 fellow business and nonprofit colleagues. Belen DeLeon, 9News Meteorologist, emceed the event, and Reggie Rivers provided the keynote address.
"It is a great honor to be able to celebrate ethics in the Denver/Boulder marketplace through the Torch Awards. Recognizing those businesses and nonprofits in our community who lead the charge by consistently exemplifying the BBB Mission of ethics, integrity and marketplace trust is an immense privilege," said Kim States, President and CEO of BBB Denver/Boulder.
Each organization went through a meticulous application process to illustrate its commitment to ethics and community leadership. The winners were each closely evaluated and chosen by an independent panel of judges. The judges analyzed each applicant's ethical standards and practices, reputation, marketing, advertising, management practices, and training programs to distinguish those that were most outstanding.
Congratulations to this year's winners!